If you are looking for the best place to purchase your tires, we have you covered. At Holmes Honda's Authorized Honda Tire Center, we shop the competition and offer the most competitive pricing. We also carry Original Equipment tires that the manufacturer specifically designed for your Honda, or any other make and model to use. Tires are the most important safety feature on your car. High quality tires with a healthy tread pattern is the #1 accident avoidance feature your car has. Sadly, this is the most overlooked maintenance item on a vehicle. With your tires being the only interface between your Honda and the ground to accelerate, steer and stop, we want to make sure that your tires are not worn so that you are safe. Maintaining your tires also helps with fuel economy! At Holmes Honda, we will inspect your tires' tread depth and wear % with every visit. In addition, you will receive a vehicle health inspection form to take with you. Drive with the peace of mind knowing that your tires are safe and will keep your vehicle securely planted on the road.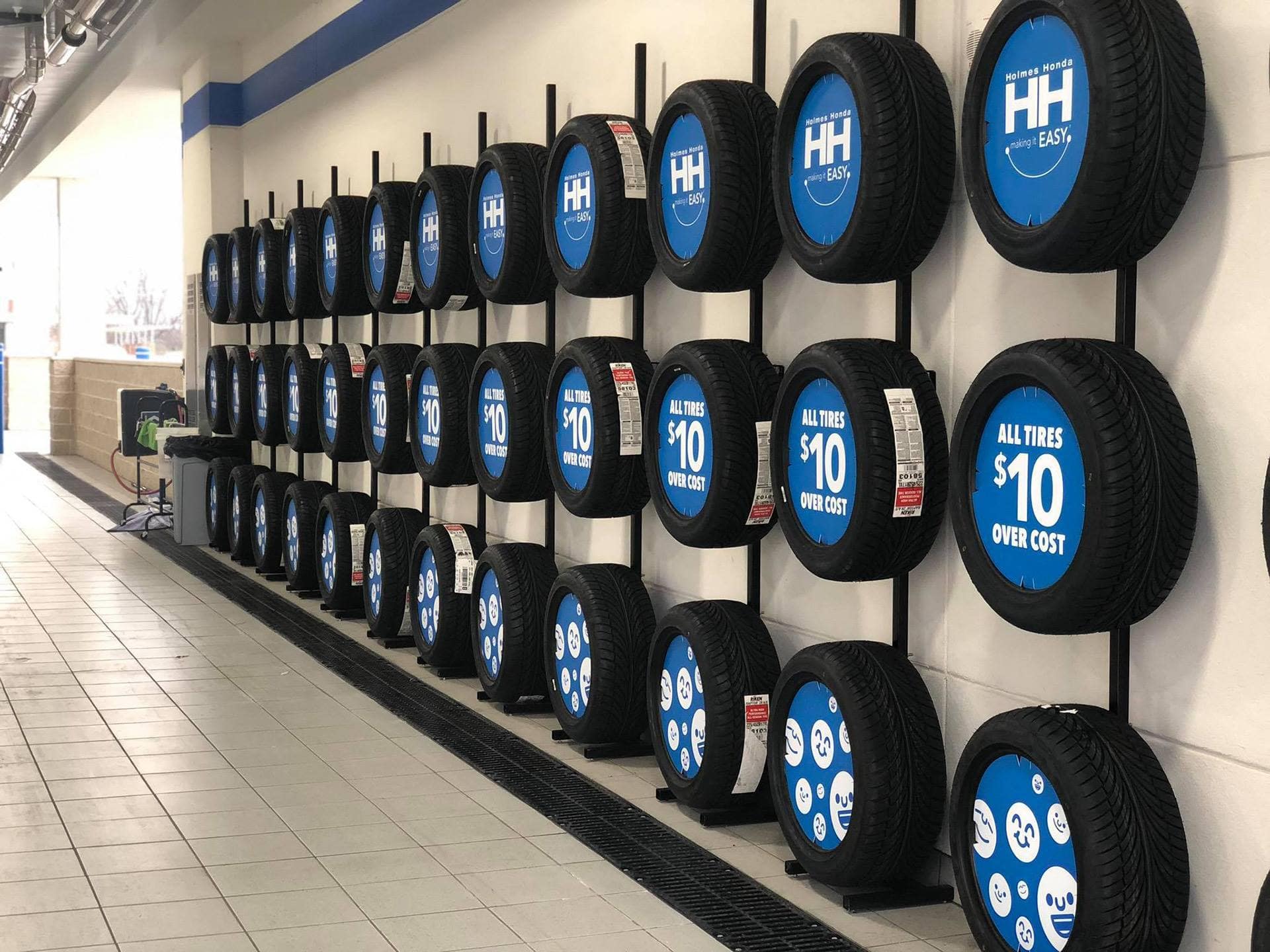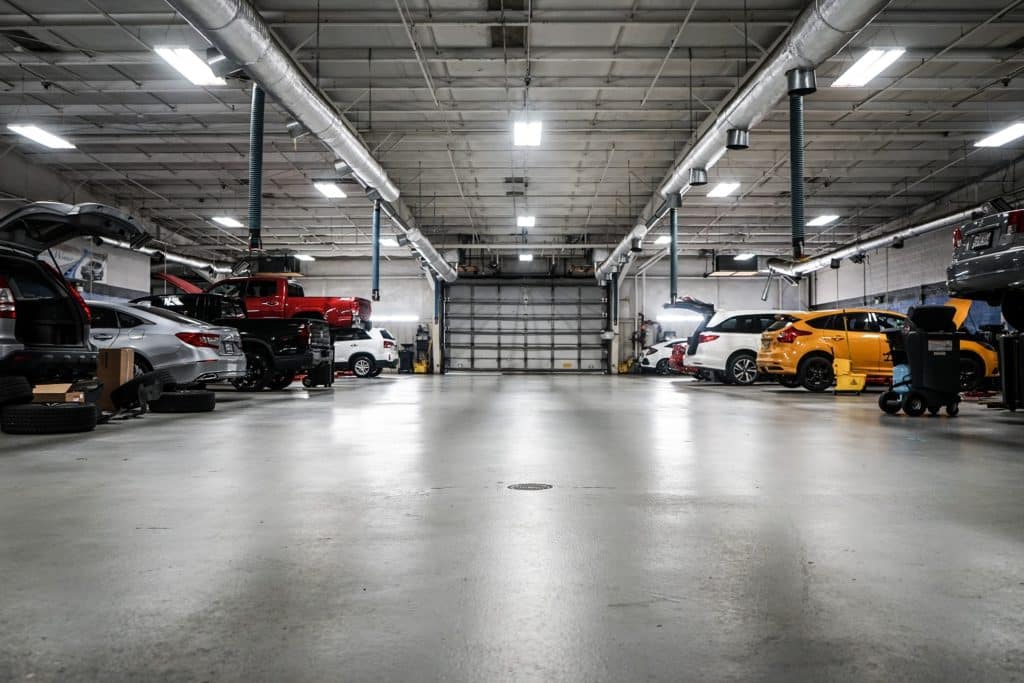 What are the benefits of Original Equipment Tires?
Original Equipment OE Tires:
-OE Tires are extensively tested in the lab, on the track, and on the road to guarantee that the tires provide the right balance of wear, performance, fuel efficiency and comfort
-Developed by Honda engineers who work closely with the (OE) tire manufacturer to help develop a tire that optimizes all of the performance qualities of your vehicle
-They undergo an exclusive Honda development process with testing to guarantee the same level of performance
-They help your vehicle attain the original performance characteristics to maintain the enjoyment you have while driving your Honda
-These are the only tires Honda recommends for your vehicle
Order Honda Tires in Shreveport, LA
Ready to purchase a new set of tires for your Honda vehicle?
Order Honda tires
from our Shreveport, LA 
Authorized Honda Tire Center
at Holmes Honda Shreveport today!
Honda Tire Center at Holmes Honda
Maintaining Your Tires
It is essential that you maintain your Honda tires, as they ensure that your car runs smoothly and helps save your fuel economy. Your tires help the vehicle place power on the ground with the grips making sure that your Honda can firmly hold onto the road.
Holmes Honda's Service Professionals will be there every step of the way to help you keep up with your regular maintenance after your tires have been installed.
The lifespan of your tires can be drastically affected in many ways. Some of the most common factors to consider when driving your vehicle are your driving style, tire pressure, routine tire rotations and wheel alignment. Below we will discuss some information on how you can limit the amount of treadwear that is caused by your daily commutes.
Tire Balance
Tire balancing equally distributes the weight of the tire and wheel assembly to spin smoothly at high speed. Tires can become out of balance with normal tire wear. All four tires and wheels may be balanced during a tire rotation and when new tires are installed.
Special equipment spins the tire and wheel assembly to measure vibrations and the technician installs wheel weights as needed to eliminate vibrations.
Tire Condition/ Tread Depth
Monitoring normal tread wear helps plan for future tire replacement. Uneven or irregular tread wear can indicate problems with tire pressure, wheel alignment, tire balance or lack of rotation. New tire tread depths typically begin with 9/32" to 12/32" of tread. Make sure your tires' tread depths are sufficient for road and weather conditions.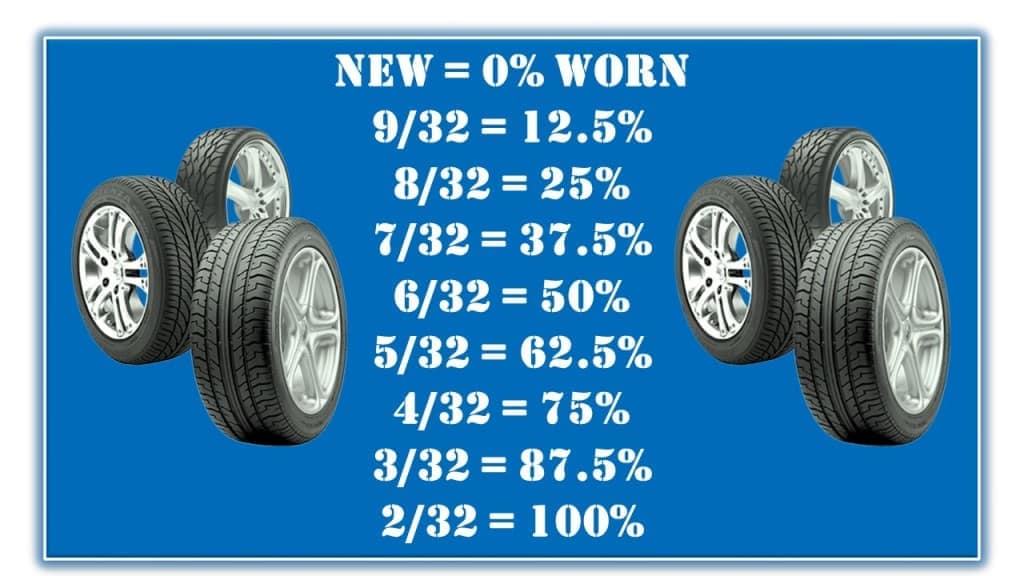 Tire Pressure
Properly inflated tires provide the best combination of handling, tread life,  and comfort. The air pressure inside the tires supports the weight of the vehicle. Tire pressure is the inflation pressure specification, measured in Pounds per Square Inch (PSI), for a given tire type, size, and application. The cold tire inflation pressure, PSI, is on the Tire Information Label located on the driver's side door jamb. Because tires can lose 1-2 PSI of tire pressure per month, the pressures must be checked regularly.
Tire Pressure Monitoring System (TPMS)
Since 2008, every Honda has been equipped with a Tire Pressure Monitoring System (TPMS) that monitors the pressure in all four tires and alerts the driver if pressure in any tire becomes significantly low. Drivers should also regularly check their tires' pressure using an accurate guage.
Some Honda TPMS systems have battery powered sensors inside the wheels. Batteries inside these sensors have an expected lifespan of 7-10 years. When a battery in any sensor fails, an indicator on the instrument panel comes on and the system will no longer monitor the tire pressure.
Tire Rotation
During tire rotation, at the time of service, the tire and wheel assemblies are moved from one position to another to more evenly distribute wear and maximize tire life. The rotation pattern depends on the vehicle and tire design. Because the front tires turn and pull the vehicle forward, front tires wear differently than rear tires.
Tire rotation is regular maintenance that should be performed as recommended and is required to maintain the tire's warranty coverage. (Consult the tire manufacturer's warranty booklet provided with the vehicles for more details.)
Wheel Alignment
A wheel alignment is the adjustment of angles that the tires make in relation to the road surface and each other. The primary alignment angles are camber, caster and toe.
A wheel alignment is often performed after replacing tires or suspension components, after an impact with a pothole or curb, or when the following conditions occur: abnormal tire wear, an offset steering wheel, or handling concerns (drifting, pulling, wandering, darting).
Technicians measure alignment angle using sophisticated equipment, then adjust or possibly replace suspension components as needed to set alignment to original Honda specifications.
How Often Should you change your tires?
Every time that you drive, your tires undergo additional wear and tear. This means that you will have to replace your Honda's tires several times over its lifespan. Putting off replacing your tires puts yours and other's safety in danger. Different brands of tires will last for varying amounts of time, but their durability also depends on your driving habits. As such, you should have your tires checked for wear regularly.
Once your tire is worn down past 1/16 inches of tread, it is time to replace them. You can easily test this yourself with a penny. Place it between the treads with Lincoln's head down. If you can see his entire head, it is time for your tires to be replaced. You should also be mindful of how your Honda reacts while driving. If you notice a lot of vibration, it may be time to bring your vehicle in for inspection. We have created the chart below to further help you understand just how worn out your tires are.
Reasons Why Holmes Honda is Your #1 Choice for Tires
Lowest prices in the state. Tires are only $10.00 over dealer cost everyday!
We stock all of the top brands
We specialize in the factory recommended tire
Free rotations for the life of the tires when you purchase a set of 4
Free 2 year road hazard policy
Free tire repairs with your purchase
Stop by anytime and we will gladly add air to a low tire