Honda CR-V Wins 2018 Motor Trend SUV of the Year!
Holmes Honda is excited to announce that the Honda CR-V was awarded Motortrend's 2018 SUV of the Year! This is the second time the Honda CR-V has taken home this prestigious award, with the first being the 2015 SUV of the Year title where we beat the Jeep Cherokee. Now, three years later, the completely redesigned CR-V conquered the sporty European Alfa Romeo Stelvio! With the CR-V, Honda took aim right at the heart of its segment, and hit a bullseye. Out of 23 contenders, we along with Motor Trend believe the CR-V is a worthy winner, and here is why!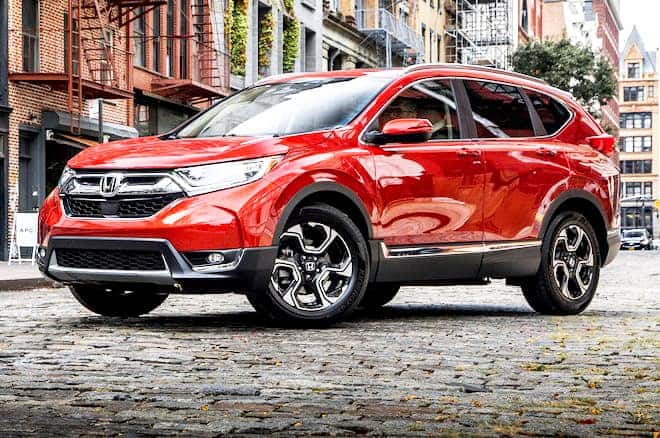 The CR-V isn't just roomy, well-equipped and well built. It is also consciously conceived and executed. It has plenty of space for your belongings, it will not break the bank when pumping your gas, and you can drive and ride knowing that you and your loved ones are safe on the road. The Honda CR-V is cram-packed with features and technology at an extremely affordable price. Technical director Frank Markus said, "This is about the swankiest interior ever seen on the CR-V."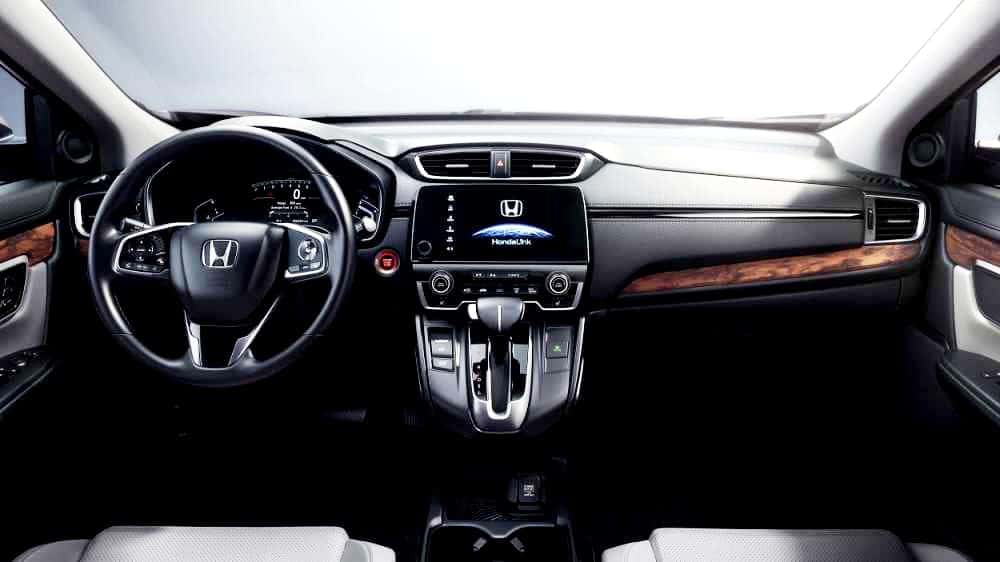 More important, the CR-V's cabin is also supremely functional, with a ton of storage space. The rear door open wide, ensuring easy entry and exit, making it a perfect vehicles for those with children and car seats! There is plenty of legroom and headroom for adults, as well as rear A/C and USB charging ports to keep multiple passengers devices charged! The CR-V is still one of the only SUV's in the segment to offer the ability to lower the 60/40 split rear sear via levers in the load space area. It is a masterpiece of packaging, a true accomplishment in the compact SUV space. Editor-in-Chief Ed Loh said, "The overall design is logical and high-tech, and it feels loaded!"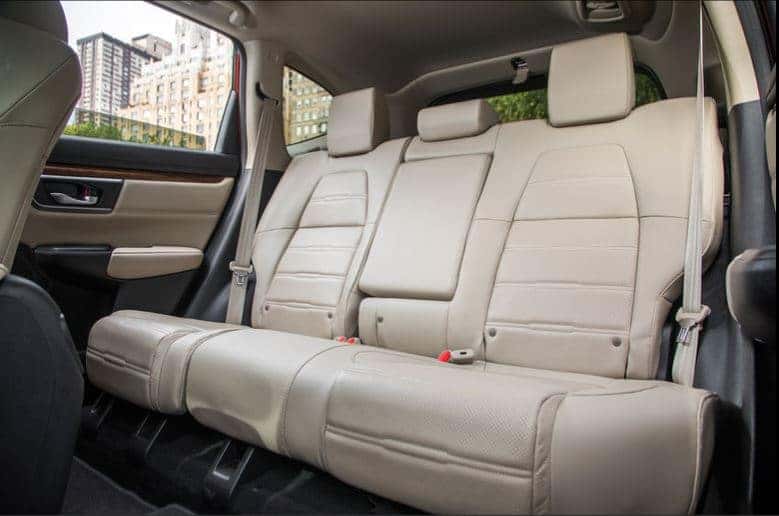 Obvious to the eye, the CR-V is bigger than the previous model- longer and taller overall, but the scales tell a fascinating tale. Although you get more CR-V, it actually weighs 113 lbs, which helps with both efficiency and handling. Two engines are available, both of which drive through a continuously variable transmission. The CR-V LX is powered by the 184-hp, 180-lb-ft 2.4 liter naturally aspirated inline-four carried over from the previous generation. New for the EX, EX-L and Touring CR-V models is a 1.5 liter turbocharged inline-four that develops 190 hp and 179 lb-ft.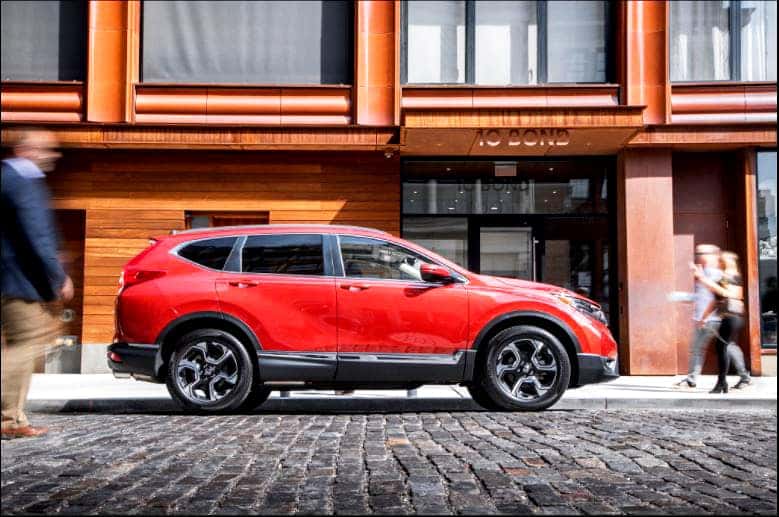 Offering two engines with essentially the same outputs might seem a little odd, but there's definitely a method in Honda's madness. Carrying over the 2.4-liter engine allows the entry-level LX model to be priced at just under $25,000. For a $2,750 premium the new 1.5-liter turbo delivers its peak power at lower revs and peak torque across a much broader range than the naturally aspirated one, delivering noticeably better drivability, performance, and fuel economy. The CR-V Touring is not only 0.8 second quicker to 60 mph than the previous model but is also about 8 percent more fuel efficient around town, according to the EPA numbers. Our Real MPG figures show a 22.3 percent gain on the highway. The steering is light but accurate and the ride is tightly controlled, keeping the CR-V confidently planted through corners. The CVT works beautifully with the new 1.5-liter turbocharged four-banger, keeping the engine humming right where the torque curve is fattest to ensure good throttle response. "I'm impressed by how quickly this Honda is capable of going down a canyon road," associate editor Scott Evans said. The CR-V LX matches the previous generation's EPA-rated fuel economy, at 25–26/31–32 mpg city/highway with front- and all-wheel drive, and the Touring boasts an impressive 27/33 mpg city/highway EPA rating.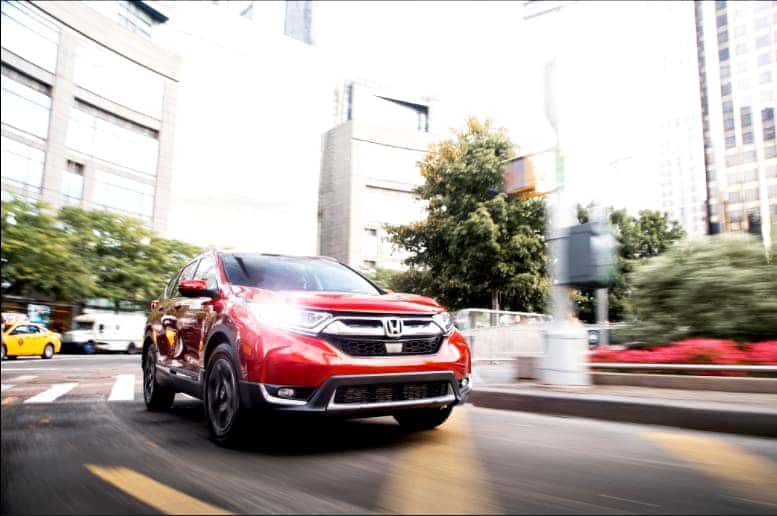 When it comes to being protected during a crash, have no fear! The Honda CR-V scored a solid 5-star safety rating from NHTSA! Not only will the Honda CR-V help keep you safe during a crash, it will also help prevent one. The CR-V's Honda Sensing driver-assistance system, which includes lane keeping assist, active cruise control, and collision prevention and is fitted to all but the base LX model, hands down leads the segment. Honda Sensing is effortless to use and effective. The lane keeping assist function drew remarkable praise for being one of the few to conclude a right edge of the road without needing a painted white line and for its ability to activate independently of active cruise control. Road test editor Chris Walton reckoned it to be perhaps the best lane keeping system available! Evans was equally impressed. "It's seriously impressive, especially for the price," he said of Honda Sensing. "This is one of the most advanced driver-assistance systems on the market, and you can get it in an everyday family crossover." With prices ranging from just under $25,000 for an LX to $34,795 for the Touring AWD model, the Honda CR-V dominates America's most competitive market segment. No matter which trim level you choose, Honda delivers a lot of compact SUV for your money and you are sure to get a lot of bang for your buck!

If you would like to test drive the 2018 Motor Trend SUV of the Year, simply fill out the form below! If you have any further questions, fill free to give us a call at 318-212-1200, or come see this award winning compact SUV in person at 1331 E. Bert Kouns Industrial Loop in Shreveport, Louisiana!
We look forward to hearing from you!
*2017 MotorTrend Magazine TEN