Holmes Honda Earns the Coveted President's Award for the 11th Time!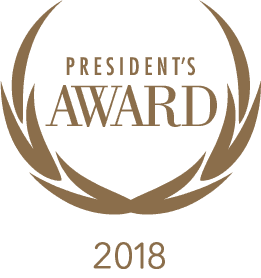 After much hard work and dedication, Holmes Honda has won the prestigious President's Award once again! Winning the 2017 Honda President's Award makes it the 11th year for Holmes Honda, and the 3rd consecutive! Honda President's Award dealership winners are within the top percentage nationwide, so winning this award once is quite the accomplishment- but winning this award 11 times, as well as three years in a row is definitely something that our Holmes Honda family is proud of.
Each year, American Honda Motor Co. Inc acknowledges the top leading dealers among more than 1,000 North American dealerships with the reputable President's Award. The core value of the President's Award Program is to support Honda dealer's efforts to make every customer experience exceptional. In order to take home the prize, Holmes Honda has to excell and deliver excellence in all areas, including: sales performance with the top new vehicle sales volume, sales experience with exceptional customer satisfaction scores, service performance and business operations.
Winning the President's Award would not be possible without our loyal customers. Holmes Honda's #1 goal and priority is customer satisfaction. It took every single staff member in each of our department's dedication to creating an exceptional experience with the highest quality of service in order to achieve the President's Award. We are thrilled and honored, and plan on delivering the same quality of service to our loyal customers in 2018 and the years to come! Come on in to Holmes Honda and allow us to provide you with the same top-notch service at 1331 E. Bert Kouns Industrial Loop in Shreveport, Louisiana! You can also give us a call at 318-212-1200, or reach us on Facebook!
OH!
If you haven't heard, Holmes Honda Bossier City will be opening in May! Don't worry, you can expect the same quality of service from our sister store. We are excited to open a second location, and cannot wait for you to see the finished product!