Holmes Honda Earns the Environmental Leadership Award!
Holmes Honda Earns the Honda Environmental Leadership Award for Reducing Its Environmental Impact!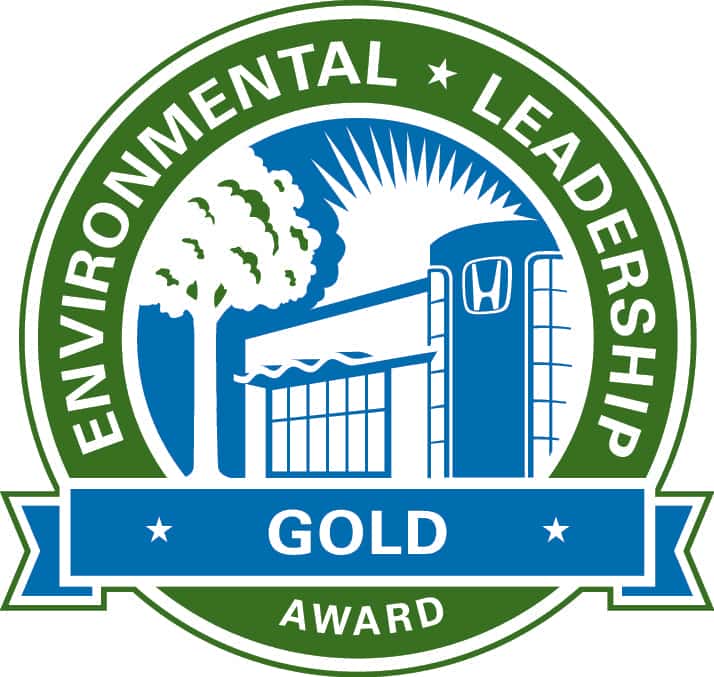 10% reduction in energy use, conservation of water, and recycling at core of "Green Dealer" effort
Shreveport, LA October 30, 2018 –  Holmes Honda has earned the Honda Environmental Leadership Award and has been recognized by American Honda Motor Co. Inc., as a leader in the company's effort to reduce the environmental impact of Honda dealerships in communities around the nation.
Holmes Honda earned the award for achieving specific environmental targets based on a rigorous points system that includes reducing total energy use at the dealership by at least 10 percent.
"We're extremely proud to be part of Honda's global effort to help preserve and protect the environment," said Mark Johnson.  "Our customers already benefit from owning a fuel-efficient Honda vehicle, but now they have the extra peace of mind, knowing that they're doing business with a local Honda dealer that is committed to reducing its environmental impact in the community."
Holmes Honda has taken numerous steps to reduce its environmental impact and to earn the Honda Environmental Leadership Award
Honda introduced its voluntary Green Dealer program to its U.S. dealers in the fall of 2011. The company uses a third party evaluator to conduct environmental audits of participating dealers and recommend strategies for reducing their energy use. To date, participating dealers across the company's automotive, power equipment and powersports lines have collectively reduced CO2 emissions by more than 58,000 metric tons and saved nearly $12.5 million in energy costs.
Over the past three decades, Honda has been working to reduce the environmental impact of its products, manufacturing and logistics operations, and facilities in North America. These initiatives are reported annually in the company's North American Environmental Report.  Expanding its environmental initiatives to its dealer body is the logical next step in the company's effort to reduce waste, energy use and CO2 emissions across the full spectrum of its operations and throughout the lifecycle of Honda products, including at the point of sale.
About Holmes Honda
Holmes Honda is a full service locally owned and operated Honda dealership, providing its customers in the Shreveport/Bossier City Community with high-quality sales and service support since 1937. We have earned the prestigious President's Award an astounding 11 times! As a community member for decades, we also believe in giving back and supporting local organizations and non-profit groups. Some of the many groups we've helped include Cystic Fibrosis Foundation, Fellowship of Christian Athletes Bossier City, House for Hope, Louisiana Lightning Girls Basketball, St. Jude's Research, The Salvation Army, The Boys and Girls Club of Shreveport, MLK Health Center and Pharmacy, and many more! Our hours for sales are Monday-Friday 7:30-7:00 and Saturday 8:00-6:00. Service hours are Monday-Friday 7:30-6:00 and Saturday 8:00-3:00. Please feel free to give us a call at 318-212-1200, or visit us at 1331 E. Bert Kouns Industrial Loop in Shreveport, LA!
Honda's Commitment to the Environment
Based on its vision of "Blue Skies for our Children," Honda is working to advance technologies that address society's environmental and energy concerns. The company intends for electrified vehicles to comprise two-thirds of its global automobile sales by 2030. In North America, the Honda Electrification Initiative will see Honda's electrified powertrain technologies applied to an expanding portfolio of cars and light trucks in the years ahead. Honda's electrified vehicle lineup today includes the Clarity series of vehicles, featuring fuel cell, battery electric and plug-in hybrid powertrains, along with the new Accord Hybrid and Honda Insight.
Honda is working to reduce the environmental impact of its products throughout their life cycle, including reducing waste, emissions and further improving the energy efficiency of producing, distributing and selling Honda and Acura products in North America. This includes a 93 percent reduction in waste sent to landfills from Honda plants in North America.
Through its "green purchasing" and "green dealer" initiatives, the company also is working to promote more environmentally responsible business practices with its more than 650 original equipment suppliers and 1,300 retail dealer partners.